The Vermont Department of Taxes is pleased to announce a statewide listening tour for small buisnesses. The public meetings, which will be held in St. Johnsbury, Montpelier, Burlington, Rutland, and Bennington, are designed to let the Department leadership hear from businesses. See our press release for more information.
The Department has planned five locations across Vermont for the listening tour.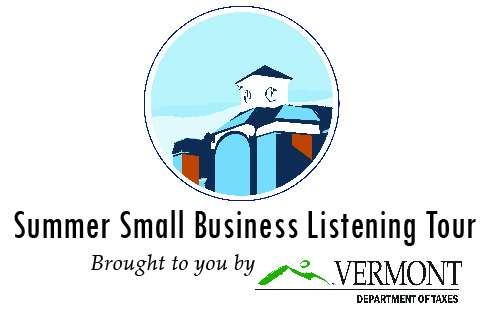 August 10: 10:00AM - 12:00PM, NVDA St. Johnsbury
August 10: 2:00PM - 4:00PM, Room 11, State House, Montpelier
August 11: 3:30PM - 5:00PM, Jeffords Hall, UVM, Burlington
August 24: 10:00AM - 12:00PM, GMP Energy Center, Rutland
August 24: 2:00PM - 4:00PM, Fire Facility, Bennington
Feedback from these sessions will be incorporated into the Taxpayer Advocate's annual report, as well as in a report due to the legislature in November. If you are unable to attend one of these sessions, you may submit feedback via email.