---
FILING YOUR RETURN
There are two ways to file your return:
File Online
E-File using myVTax
Form PTT-172 Vermont Property Transfer Tax Return
Form PTT-172 Property Transfer Tax Return Instructions
Form PTT-173 Instructions Property Transfer Tax Payment Voucher Instructions
Schedule PTT-175 Additional Transferors and Transferees
File by Paper
Paper copies only accepted for those persons filing 5 or fewer returns per year.  To request a paper copy, call (802) 828-2515. Complete Form PTT-172, Vermont Property Transfer Tax Return with identification numbers and one additional copy with the id number redacted.  Deliver the deed and returns to the town clerk. The clerk will record the deed and they will send the copy with the identification numbers to the Department.
Town Clerks: The following forms are acceptable to record:
2017 Acceptable Property Tax Forms
Date of Closing
Form
Prior to June 2015
Available online via myVTax. All previous paper forms accepted.
June 2015 - Dec. 7, 2016
Available online via myVTax or ePTTR* or PTT-172 (paper form rev. 6/15)
Dec. 8, 2016 - Current
Available online via myVTax or PTT-172 (paper form rev. 10/16)
*Discontinued as of Dec. 7, 2016
---
HOW TO SUBMIT A PAYMENT
If tax is due at the time of transfer, please make checks payable to the Vermont Department of Taxes and complete Form PTT-173, Property Transfer Payment Voucher and send to:
Vermont Department of Taxes
133 State Street
Montpelier, VT 05633-1401
Rate Schedule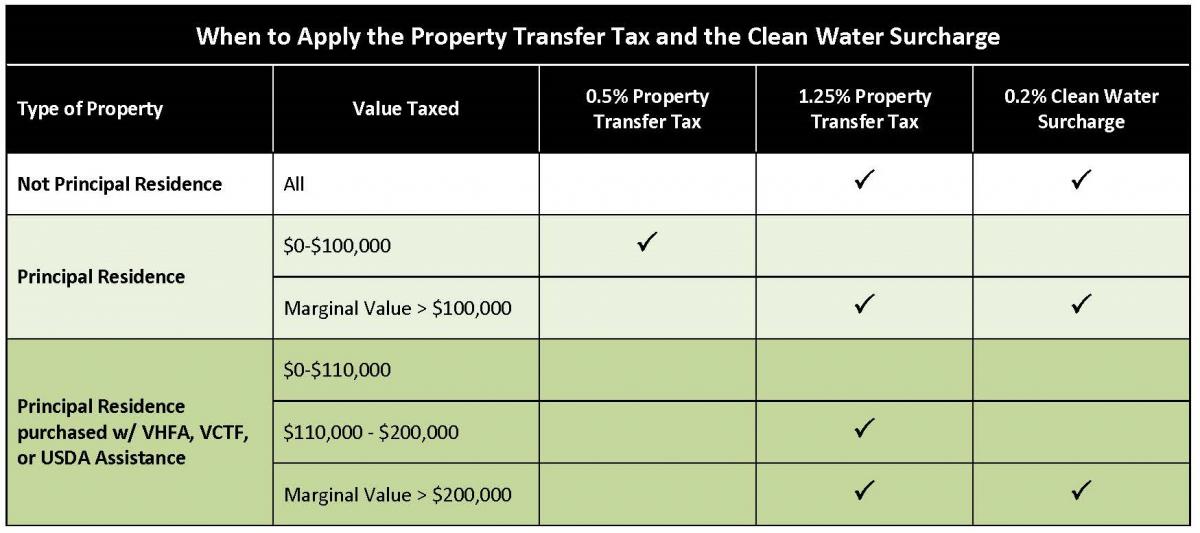 ---
EXCEPTIONS
Principal Residence
0.005 on the first $100,000
0.0145 on balance
Mortgage obtained through VT Housing Finance Agency/VT Housing & Conservation Trust Fund or the US Department of Agriculture and Rural Development
First $110,000 is exempt
0.0125 on balance on purchase price between $ 110,001 and $ 200,000      
0.0145 on balance of purchase price over $ 200,000.
Lands enrolled in State use value appraisal programs
0.005 Properties transferred before July 1, 2011
0.0125 Properties transferred on or after July 1, 2011 and before June 16, 2015
0.0145 for properties transferred after June 16, 2015