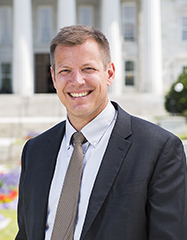 Kaj Samsom was appointed Commissioner of the Vermont Department of Taxes in January 2017.
Samsom comes to the Tax Department with a decade of financial regulation experience at the Vermont Department of Financial Regulation, most recently as Deputy Commissioner. He is a graduate of the University of Vermont and also earned a master's degree in Public Administration from UVM. He is a certified public accountant (CPA).
Samsom has also served on various boards including the American Institute of Certified Public Accountants Governing Council, the Vermont Society of Certified Public Accountants (past President), Moretown Elementary School Board (past Chair), and Montpelier Alive.
Samsom currently lives in Montpelier with his wife and children.
Learn more about the Vermont Department of Taxes.