When property is transferred in Vermont, real estate transaction taxes may be due.  These taxes include Property Transfer Tax, Real Estate Withholding, and Land Gains Tax.
Qualified property owners may request a Commissioner's Certificate to exempt them from the Real Estate Withholding and Land Gains taxes.
New e-File Services for Property Transfer Tax, Land Gains Tax, and Land Gains Withholding Tax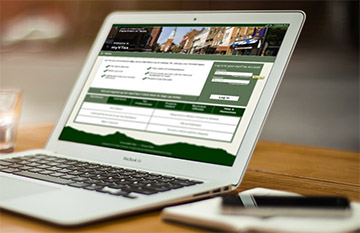 On Dec. 7, 2016, the Vermont Department of Taxes is adding convenient new services and features to myVTax, your online portal to file and pay Vermont taxes.
 
We are moving the Property Transfer Tax Return, Land Gains Return for both buyers and sellers, and requests for Commissioner's Certificates into myVTax.  This new system replaces ePTTR which was used for filing property transfer taxes, and ePTTR will be retired.
With myVTax, filing will become easier and more convenient. Here are some of the features you'll appreciate:
File and pay your taxes online
Share returns between representatives of the buyer and seller to help prepare accurate and complete returns for closing on the property sale
Check the status of your return or certificate request
View your return history and any requests filed through myVTax
Contact the Department through secure online messaging
Prepopulate data from Property Transfer Tax Return to the Land Gains Return
Protect your privacy by masking Social Security Numbers and Federal Employer Identification Numbers
Requirement for E-filing
Tax preparers who file more than five returns or certificate requests per calendar year are required to use myVtax for filing.  The $5 online filing fee has been eliminated for Property Transfer Tax Returns.
myVTax Videos and Guides
We have created helpful guides and short videos to help you with the transition from ePTTR to myVTax.
Looking for more myVTax videos and guides?