Granting Tax Professional Access to a myVTax Account
One of the many convenient features of myVTax is the ability to give a third party, such as your tax professional, access to your tax account. Levels of access range from "View" only to allowing the third party to "View, File & Pay" your taxes. Before you begin, the third party must create an account in myVTax. Once registered, this person is recognized as an "Existing Third Party" with a username in myVTax. You must obtain the username to add the third party to your account. 
Step 1
Log into your myVTax account. From the home screen, click Grant Accountant or Third Party Access. 

Step 2
Enter the Third Party Username as provided by your tax professional or third party.
Verify that the name that appears in the Name field is the name of your tax professional or third party.
You may grant the accountant or third party named above the ability to designate others* to access your account by selecting Allow third parties to grant other logins access to my account(s). You can always revoke permission if you change your mind later. However, if you want only the person named above to access your account, select Allow only this login to access my account(s).
Select the appropriate account type(s) that applies to your business.
Step 3
Once you have granted the third party permission to access an account, you then must specify the tax year(s) for that account. The third party will not be able to access tax years outside of the range you designate.

Step 4
Click on the down arrow to select the level of access you wish to grant your tax professional.
Note: If the third party is registered using a Social Security Number, then the only option available is "View."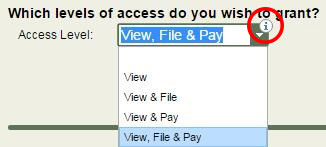 Step 5
Confirm permission by checking (1) the box. Click (2) Submit to add the third party to your account.

myVTax Video: How to Submit a Third Party Authorization