New Look for myVTax
Effective November 9, 2020, myVTax has a new, streamlined look which makes finding the functions you need even easier than before. While the functionality mostly remains the same, we think you will find this layout simpler and more intuitive.
See homepage changes for:
Taxpayers
Accountants and Preparers
Attorneys
What's Changing
The Homepage
With more white space, panels that stack based on screen size, and a search feature that filters the panels, finding what you need is faster than ever.
Image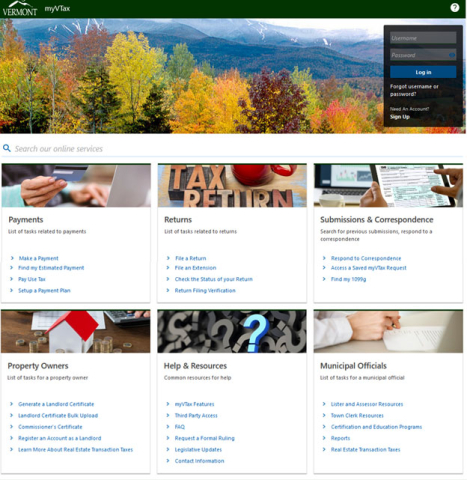 ---
Taxpayers
Logged-In Homepage
The work you do in myVTax has been reorganized into three main sections:
Summary,
Action Center,
and I Want To.
 
From the Summary tab you can drill into your accounts, file returns, make payments, and more. The Summary tab (shown below) shows all accounts and balances. It also has links based on account type for activities such as filing returns, making payments, closing an account, managing business principals, and more.
The Action Center highlights things that need attention, such as returns that are due to be filed or messages received from the Department.
The I Want To section contains other miscellaneous actions you can take in the system. Examples include granting a third party (like a tax preparer) access to your accounts, adding access to other tax types you are responsible for, managing payments and returns, updating names and addresses, and viewing letters and messages that the Department has sent you. Additionally, the searches available here will pull back results for all account types that you have access to.
Image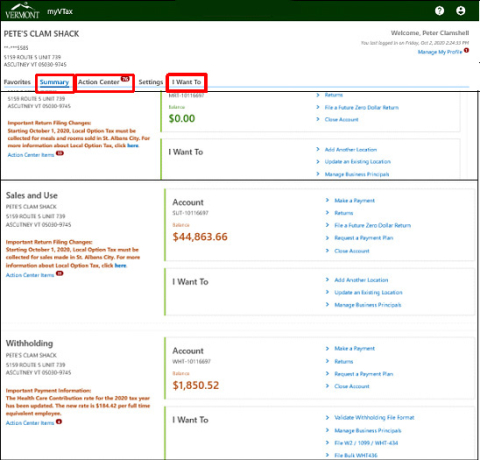 ---
Accountants and Preparers
Logged-In Homepage
The Accountant Center (shown below) provides information about all of your clients at once.  See recent submissions, view messages and letters, manage payments and returns, or request access to a client.
The All tab shows all clients you have access to. Preparers with access to three or more clients have a Favorites tab, where they can select clients they work with most frequently.
The Recent tab is another quick way to access clients, providing links to clients you have worked with most recently.
We have also added outstanding action alerts under a client flag where attention is needed for a particular client. Action alerts may include unfiled returns, payments needed, or unread messages.
Image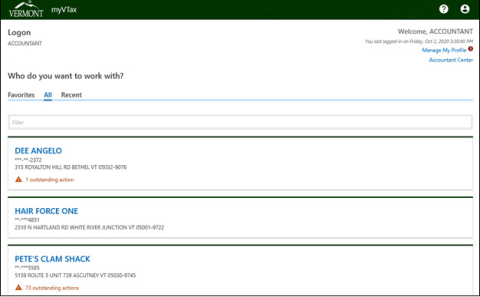 ---
Attorneys
Logged-In Homepage
The All tab provides a list of the clients to which the attorney has been granted to myVTax access. There is also a new Favorites tab that allows attorneys to create shortcuts to their favorite clients. If Favorites has previously been chosen, upon subsequent sign-ins in the Favorites tab will be displayed by default.
Like accountants and preparers, attorneys also have a new Accountant Center which allows them to file a real estate return, view submissions, see letters and messages, manage payments and returns, and request access to client accounts.
Image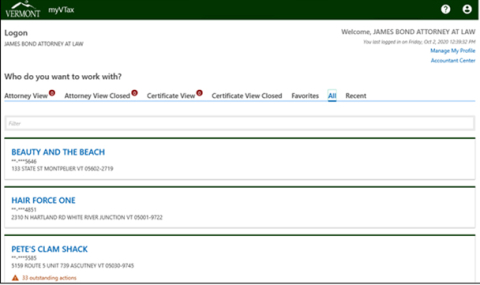 ---
What You Can do in myVTax
Modernized e-File Users (MeF): If you file through MeF, you may continue to do so even if the tax type can be filed through myVTax. Personal income tax and fiduciary tax cannot be filed through myVTax and must be filed through MeF vendor software.