About the Commissioner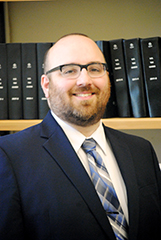 Craig Bolio began serving as the Acting Commissioner at the Vermont Department of Taxes in June of 2019. He has worked for the Department since 2011, with much of his time with the Department spent leading the team that built myVTax, the Department's online filing site.
Craig grew up in Vermont and is a graduate of the University of Vermont. He holds a bachelor's degree in Political Science and Economics, and a master's degree in Business Administration.
Craig currently lives in Essex Junction with his partner, Kristen, and their pets, Frankie and Sadie.