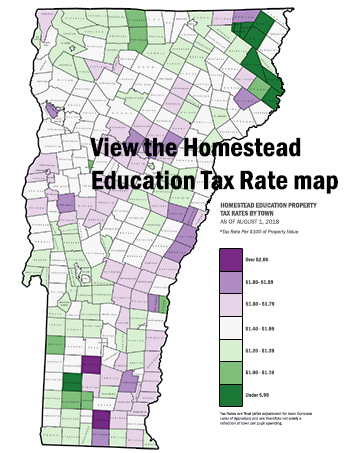 The town tax rate tables and resources below are for the current, 2018-2019, property tax year (FY19). Please see the Commissioner's annual education tax rate letter for forecasted yields and nonresidential rate for FY20.
Homestead Tax Rates
The Homestead Education Tax Rate is based primarily on the education spending per equalized pupil of all the pupils residing in your town. Many town districts are also members of union school districts. Each town and union school district will have a tax rate based on its spending per pupil. For towns with multiple school districts, the tax rate is a combination of those rates.
Here are the FY19 Homestead Education Tax Rate Calculations for each town. Select the town you are interested in viewing from the drop down menu and the rates for that town will be displayed.
Visit our Education Tax Rate FAQs, read more about the Education Fund and Education Finance, or download the complete FY19 Education Property Tax Rate Table.
Prior Year Tax Rates
FY2019 Education Tax Rates -- Summary as of August 14, 2018:
FY19 Education Tax Rates have been set  and are posted below for the towns that have:
Passed their school budget and submitted it to Agency of Education and
Completed their reappraisal (if reappraising in 2018).
The Education Tax rates for additional towns will be posted on this website when their Education property tax rates are set.
| | |
| --- | --- |
| 259 | Towns in which Education Tax Rate Set |
| 259 | TOWN Total Statewide |
Education Property Tax Rate Table:
| TOWN | Tax School ID | REAPPRAISALTHIS YEAR | CLA% | Homestead | Nonresidential |
| --- | --- | --- | --- | --- | --- |
| Addison | 001 | Calculated | 106.63 | 1.5457 | 1.4818 |
| Albany | 002 | Calculated | 112.36 | 1.3438 | 1.4062 |
| Alburgh | 003 | Calculated | 104.5 | 1.6119 | 1.512 |
| Andover | 004 | Calculated-Reappraisal | 107.49 | 1.3491 | 1.4699 |
| Arlington | 005 | Calculated | 109.44 | 1.5686 | 1.4437 |
| Athens | 006 | Calculated | 109.24 | 1.4806 | 1.4464 |
| Averill | 255 | Calculated | 107.36 | 0.9314 | 1.4717 |
| Averys Gore | 256 | Calculated | 107.36 | 0.9314 | 1.4717 |
| Bakersfield | 007 | Calculated | 100.14 | 1.3239 | 1.5778 |
| Baltimore | 008 | Calculated | 100.97 | 1.4585 | 1.5648 |
| Barnard | 009 | Calculated | 113.74 | 1.487 | 1.3891 |
| Barnet | 010 | Calculated | 110.52 | 1.3848 | 1.4296 |
| Barre City | 011 | Calculated | 100.91 | 1.2698 | 1.5658 |
| Barre Town | 012 | Calculated | 87.58 | 1.4396 | 1.8041 |
| Barton | 013 | Calculated | 97.23 | 1.3755 | 1.625 |
| Belvidere | 014 | Calculated | 95.66 | 1.5729 | 1.6517 |
| Bennington | 015 | Calculated | 94.62 | 1.4601 | 1.6698 |
| Benson | 016 | Calculated | 107.87 | 1.2767 | 1.4647 |
| Berkshire | 017 | Calculated | 100.95 | 1.2657 | 1.5651 |
| Berlin | 018 | Calculated | 102.45 | 1.6683 | 1.5422 |
| Bethel | 019 | Calculated | 107.75 | 1.5086 | 1.4664 |
| Bloomfield | 020 | Calculated | 108.96 | 1.4157 | 1.4501 |
| Bolton | 021 | Calculated | 99.61 | 1.498 | 1.5862 |
| Bradford | 022 | Calculated-Reappraisal | 105.28 | 1.4271 | 1.5008 |
| Braintree | 023 | Calculated | 101.82 | 1.4419 | 1.5518 |
| Brandon | 024 | Calculated | 104.02 | 1.3277 | 1.5189 |
| Brattleboro | 025 | Calculated | 104.33 | 1.5825 | 1.5144 |
| Bridgewater | 026 | Calculated | 92.93 | 1.7771 | 1.7002 |
| Bridport | 027 | Calculated | 98.3 | 1.6015 | 1.6073 |
| Brighton | 028 | Calculated | 107.65 | 1.3832 | 1.4677 |
| Bristol | 029 | Calculated-Reappraisal | 100.96 | 1.527 | 1.565 |
| Brookfield | 030 | Calculated | 110.47 | 1.329 | 1.4303 |
| Brookline | 031 | Calculated | 95.18 | 1.7995 | 1.66 |
| Brownington | 032 | Calculated | 103.57 | 1.2512 | 1.5255 |
| Brunswick | 033 | Calculated | 95.66 | 1.211 | 1.6517 |
| Buels Gore | 252 | Calculated | 93.98 | 1.0641 | 1.6812 |
| Burke | 034 | Calculated | 100.72 | 1.5094 | 1.5687 |
| Burlington | 035 | Calculated | 79.94 | 1.8498 | 1.9765 |
| Cabot | 036 | Calculated | 99.31 | 1.7543 | 1.591 |
| Calais | 037 | Calculated | 98.51 | 1.6934 | 1.6039 |
| Cambridge | 038 | Calculated | 100.65 | 1.4704 | 1.5698 |
| Canaan | 039 | Calculated | 115.65 | 1.4555 | 1.3662 |
| Castleton | 040 | Calculated | 99.07 | 1.4753 | 1.5948 |
| Cavendish | 041 | Calculated | 112.56 | 1.2883 | 1.4037 |
| Charleston | 042 | Calculated | 106.4 | 1.4284 | 1.485 |
| Charlotte | 043 | Calculated | 98.28 | 1.4866 | 1.6077 |
| Chelsea | 044 | Calculated | 97.23 | 1.613 | 1.625 |
| Chester | 045 | Calculated | 119.44 | 1.2141 | 1.3228 |
| Chittenden | 046 | Calculated | 99.93 | 1.418 | 1.5811 |
| Clarendon | 047 | Calculated | 110.51 | 1.379 | 1.4297 |
| Colchester | 048 | Calculated | 92.67 | 1.5303 | 1.705 |
| Concord | 049 | Calculated | 99.71 | 1.5985 | 1.5846 |
| Corinth | 050 | Calculated | 109.77 | 1.3024 | 1.4394 |
| Cornwall | 051 | Calculated | 100.59 | 1.5651 | 1.5707 |
| Coventry | 052 | Calculated | 100.76 | 1.417 | 1.5681 |
| Craftsbury | 053 | Calculated-Reappraisal | 108.8 | 1.5555 | 1.4522 |
| Danby | 054 | Calculated | 125.21 | 1.2411 | 1.2619 |
| Danville | 055 | Calculated | 103.15 | 1.4912 | 1.5318 |
| Derby | 056 | Calculated | 97.94 | 1.3643 | 1.6132 |
| Dorset | 057 | Calculated | 108 | 1.4873 | 1.463 |
| Dover | 058 | Calculated | 103.84 | 1.4598 | 1.5216 |
| Dummerston | 059 | Calculated | 104.04 | 1.6639 | 1.5186 |
| Duxbury | 060 | Calculated | 98.05 | 1.6286 | 1.6114 |
| East Haven | 061 | Calculated | 106.64 | 1.6351 | 1.4816 |
| East Montpelier | 062 | Calculated | 95.83 | 1.9218 | 1.6488 |
| Eden | 063 | Calculated | 95.04 | 1.5831 | 1.6625 |
| Elmore | 064 | Calculated | 98.82 | 1.4318 | 1.5989 |
| Enosburgh | 065 | Calculated | 106.67 | 1.2859 | 1.4812 |
| Essex Town | 067 | Calculated | 95.53 | 1.536 | 1.6539 |
| Fair Haven | 070 | Calculated | 111.27 | 1.2377 | 1.42 |
| Fairfax | 068 | Calculated | 94.01 | 1.3977 | 1.6807 |
| Fairfield | 069 | Calculated | 91.86 | 1.5577 | 1.72 |
| Fairlee | 071 | Calculated | 106.37 | 1.6891 | 1.4854 |
| Fayston | 072 | Calculated | 100.54 | 1.5882 | 1.5715 |
| Ferdinand | 257 | Calculated | 107.36 | 0.9314 | 1.4717 |
| Ferrisburgh | 073 | Calculated | 102.97 | 1.6007 | 1.5344 |
| Fletcher | 074 | Calculated | 91.84 | 1.6171 | 1.7204 |
| Franklin | 075 | Calculated | 102.43 | 1.3123 | 1.5425 |
| Georgia | 076 | Calculated | 98.22 | 1.3984 | 1.6086 |
| Glastenbury | 258 | Calculated | 93.63 | 1.068 | 1.6875 |
| Glover | 077 | Calculated | 101.86 | 1.4162 | 1.5511 |
| Goshen | 078 | Calculated | 92.02 | 1.5009 | 1.717 |
| Grafton | 079 | Calculated | 115.98 | 1.3852 | 1.3623 |
| Granby | 080 | Calculated | 102.29 | 1.0265 | 1.5446 |
| Grand Isle | 081 | Calculated | 105.49 | 1.5387 | 1.4978 |
| Granville | 082 | Calculated | 99.22 | 1.7224 | 1.5924 |
| Greensboro | 083 | Calculated | 101.22 | 1.6409 | 1.561 |
| Groton | 084 | Calculated | 104.93 | 1.4949 | 1.5058 |
| Guildhall | 085 | Calculated | 120.72 | 0.8698 | 1.3088 |
| Guilford | 086 | Calculated | 100.81 | 1.7014 | 1.5673 |
| Halifax | 087 | Calculated | 109.39 | 1.229 | 1.4444 |
| Hancock | 088 | Calculated | 99.34 | 1.6325 | 1.5905 |
| Hardwick | 089 | Calculated | 99.97 | 1.7008 | 1.5805 |
| Hartford | 090 | Calculated | 96.55 | 1.6369 | 1.6365 |
| Hartland | 091 | Calculated | 104.72 | 1.554 | 1.5088 |
| Highgate | 092 | Calculated | 108.29 | 1.2523 | 1.459 |
| Hinesburg | 093 | Calculated | 100.85 | 1.4487 | 1.5667 |
| Holland | 094 | Calculated | 91.9 | 1.6631 | 1.7193 |
| Hubbardton | 095 | Calculated | 101.58 | 1.4752 | 1.5554 |
| Huntington | 096 | Calculated | 99.72 | 1.5146 | 1.5844 |
| Hyde Park | 097 | Calculated-Reappraisal | 100.37 | 1.4991 | 1.5742 |
| Ira | 098 | Calculated | 104.13 | 1.3674 | 1.5173 |
| Irasburg | 099 | Calculated | 97.09 | 1.3995 | 1.6274 |
| Isle La Motte | 100 | Calculated-Reappraisal | 109.49 | 1.3834 | 1.4431 |
| Jamaica | 101 | Calculated-Reappraisal | 101.04 | 1.7991 | 1.5637 |
| Jay | 102 | Calculated | 100.21 | 1.5382 | 1.5767 |
| Jericho | 103 | Calculated | 102.74 | 1.4524 | 1.5379 |
| Johnson | 104 | Calculated | 99.63 | 1.5102 | 1.5859 |
| Killington | 185 | Calculated | 103.37 | 1.6067 | 1.5285 |
| Kirby | 105 | Calculated | 107.49 | 1.5245 | 1.4699 |
| Landgrove | 106 | Calculated | 99.34 | 1.4873 | 1.5905 |
| Leicester | 107 | Calculated | 109.66 | 1.2594 | 1.4408 |
| Lemington | 108 | Calculated-Reappraisal | 102.18 | 1.4226 | 1.5463 |
| Lewis | 259 | Calculated | 107.36 | 0.9314 | 1.4717 |
| Lincoln | 109 | Calculated | 107.86 | 1.4836 | 1.4649 |
| Londonderry | 110 | Calculated-Reappraisal | 102.36 | 1.4434 | 1.5436 |
| Lowell | 111 | Calculated | 97.21 | 1.3817 | 1.6253 |
| Ludlow | 112 | Calculated | 96.62 | 1.6741 | 1.6353 |
| Lunenburg | 113 | Calculated | 102.12 | 1.4287 | 1.5472 |
| Lyndon | 114 | Calculated | 97.94 | 1.5028 | 1.6132 |
| Maidstone | 115 | Calculated | 111.91 | 0.9383 | 1.4118 |
| Manchester | 116 | Calculated | 103.53 | 1.5253 | 1.5261 |
| Marlboro | 117 | Calculated-Reappraisal | 97.9 | 1.736 | 1.6139 |
| Marshfield | 118 | Calculated | 91.35 | 1.8641 | 1.7296 |
| Mendon | 119 | Calculated | 106.16 | 1.3348 | 1.4883 |
| Middlebury | 120 | Calculated | 84.74 | 1.8578 | 1.8645 |
| Middlesex | 121 | Calculated | 101.24 | 1.8097 | 1.5606 |
| Middletown Springs | 122 | Calculated | 108.27 | 1.3592 | 1.4593 |
| Milton | 123 | Calculated | 98.08 | 1.4332 | 1.6109 |
| Monkton | 124 | Calculated | 100.47 | 1.5402 | 1.5726 |
| Montgomery | 125 | Calculated | 103.14 | 1.1442 | 1.5319 |
| Montpelier | 126 | Calculated | 92.31 | 1.6012 | 1.7116 |
| Moretown | 127 | Calculated | 97.17 | 1.6433 | 1.626 |
| Morgan | 128 | Calculated | 102.24 | 1.2953 | 1.5454 |
| Morristown | 129 | Calculated | 102.55 | 1.3797 | 1.5407 |
| Mount Holly | 130 | Calculated | 110.04 | 1.4697 | 1.4358 |
| Mount Tabor | 131 | Calculated | 105.9 | 1.3217 | 1.492 |
| New Haven | 135 | Calculated | 96.7 | 1.5943 | 1.6339 |
| Newark | 132 | Calculated | 107.99 | 1.4311 | 1.4631 |
| Newbury | 133 | Calculated-Reappraisal | 99.21 | 1.4031 | 1.5926 |
| Newfane | 134 | Calculated | 97.72 | 1.754 | 1.6169 |
| Newport City | 136 | Calculated | 98.35 | 1.4242 | 1.6065 |
| Newport Town | 137 | Calculated | 108.13 | 1.4227 | 1.4612 |
| North Bennington | 138 | Calculated | 94.81 | 1.5783 | 1.6665 |
| North Hero | 140 | Calculated | 98.51 | 1.5614 | 1.6039 |
| Northfield | 139 | Calculated | 99.06 | 1.4617 | 1.595 |
| Norton | 141 | Calculated | 94.29 | 1.8777 | 1.6757 |
| Norwich | 142 | Calculated | 98.29 | 1.8487 | 1.6075 |
| Orange | 143 | Calculated | 101.9 | 1.3092 | 1.5505 |
| Orleans ID | 144 | Calculated | 97.75 | 1.3237 | 1.6164 |
| Orwell | 145 | Calculated | 100.24 | 1.535 | 1.5762 |
| Panton | 146 | Calculated | 99.88 | 1.6502 | 1.5819 |
| Pawlet | 147 | Calculated | 97.71 | 1.3731 | 1.617 |
| Peacham | 148 | Calculated | 116.45 | 1.4992 | 1.3568 |
| Peru | 149 | Calculated | 100.39 | 1.4718 | 1.5739 |
| Pittsfield | 150 | Calculated | 112.62 | 1.2655 | 1.4029 |
| Pittsford | 151 | Calculated | 100.46 | 1.3955 | 1.5728 |
| Plainfield | 152 | Calculated | 96.06 | 1.7727 | 1.6448 |
| Plymouth | 153 | Calculated | 100.89 | 1.6744 | 1.5661 |
| Pomfret | 154 | Calculated | 99.14 | 1.6738 | 1.5937 |
| Poultney | 155 | Calculated | 102.77 | 1.4161 | 1.5374 |
| Pownal | 156 | Calculated | 105.9 | 1.3522 | 1.492 |
| Proctor | 157 | Calculated | 100.79 | 1.536 | 1.5676 |
| Putney | 158 | Calculated | 103 | 1.6665 | 1.534 |
| Randolph | 159 | Calculated | 103.54 | 1.4179 | 1.526 |
| Reading | 160 | Calculated | 100.84 | 1.647 | 1.5668 |
| Readsboro | 161 | Calculated | 110.07 | 1.2214 | 1.4355 |
| Richford | 162 | Calculated | 103.56 | 1.1476 | 1.5257 |
| Richmond | 163 | Calculated | 95.51 | 1.5623 | 1.6543 |
| Ripton | 164 | Calculated | 89.2 | 1.7649 | 1.7713 |
| Rochester | 165 | Calculated | 114.25 | 1.4071 | 1.3829 |
| Rockingham | 166 | Calculated | 98.51 | 1.6807 | 1.6039 |
| Roxbury | 167 | Calculated | 102.97 | 1.6911 | 1.5344 |
| Royalton | 168 | Calculated | 101.7 | 1.4989 | 1.5536 |
| Rupert | 169 | Calculated | 116.91 | 1.1476 | 1.3515 |
| Rutland City | 170 | Calculated | 98.42 | 1.4639 | 1.6054 |
| Rutland Town | 171 | Calculated | 103.73 | 1.3953 | 1.5232 |
| Ryegate | 172 | Calculated | 105.68 | 1.4843 | 1.4951 |
| Salisbury | 177 | Calculated | 96.9 | 1.6247 | 1.6305 |
| Sandgate | 178 | Calculated | 101.24 | 1.4951 | 1.5606 |
| Searsburg | 179 | Calculated | 101.89 | 1.5622 | 1.5507 |
| Shaftsbury | 180 | Calculated | 108.11 | 1.2746 | 1.4615 |
| Shaftsbury ID | 254 | Calculated | 107.1 | 1.3972 | 1.4753 |
| Sharon | 181 | Calculated | 107.93 | 1.4607 | 1.4639 |
| Sheffield | 182 | Calculated | 101.2 | 1.5626 | 1.5613 |
| Shelburne | 183 | Calculated | 95.83 | 1.5246 | 1.6488 |
| Sheldon | 184 | Calculated | 103.41 | 1.2965 | 1.5279 |
| Shoreham | 186 | Calculated | 101.97 | 1.5439 | 1.5495 |
| Shrewsbury | 187 | Calculated | 109.51 | 1.3916 | 1.4428 |
| Somerset | 260 | Calculated | 99.72 | 1.0028 | 1.5844 |
| South Burlington | 188 | Calculated | 94.51 | 1.5506 | 1.6718 |
| South Hero | 189 | Calculated | 100.75 | 1.585 | 1.5682 |
| Springfield | 190 | Calculated-Reappraisal | 95.16 | 1.7321 | 1.6604 |
| St. Albans City | 173 | Calculated | 91.8 | 1.5587 | 1.7211 |
| St. Albans Town | 174 | Calculated | 103.66 | 1.3804 | 1.5242 |
| St. George | 175 | Calculated-Reapp-Revised | 103.66 | 1.5364 | 1.5242 |
| St. Johnsbury | 176 | Calculated | 108.83 | 1.2093 | 1.4518 |
| Stamford | 191 | Calculated | 106.23 | 1.3031 | 1.4873 |
| Stannard | 192 | Calculated | 93.88 | 1.386 | 1.683 |
| Starksboro | 193 | Calculated | 99 | 1.5573 | 1.596 |
| Stockbridge | 194 | Calculated | 104.47 | 1.5388 | 1.5124 |
| Stowe | 195 | Calculated | 96.22 | 1.5192 | 1.6421 |
| Strafford | 196 | Calculated | 103.72 | 1.4658 | 1.5233 |
| Stratton | 197 | Calculated | 96.78 | 1.6367 | 1.6326 |
| Sudbury | 198 | Calculated | 111.96 | 1.2665 | 1.4112 |
| Sunderland | 199 | Calculated | 105.65 | 0.9938 | 1.4955 |
| Sutton | 200 | Calculated | 116.65 | 1.431 | 1.3545 |
| Swanton | 201 | Calculated | 104.25 | 1.2772 | 1.5156 |
| Thetford | 202 | Calculated | 95.23 | 1.903 | 1.6591 |
| Tinmouth | 203 | Calculated | 99.84 | 1.5263 | 1.5825 |
| Topsham | 204 | Calculated | 111.11 | 1.2867 | 1.422 |
| Townshend | 205 | Calculated | 108.47 | 1.8072 | 1.4566 |
| Troy | 206 | Calculated | 103.84 | 1.4335 | 1.5216 |
| Tunbridge | 207 | Calculated | 111.06 | 1.3809 | 1.4227 |
| Underhill | 209 | Calculated | 99.9 | 1.4937 | 1.5816 |
| Vergennes | 210 | Calculated | 101.82 | 1.6187 | 1.5518 |
| Vernon | 211 | Calculated | 112.44 | 1.3314 | 1.4052 |
| Vershire | 212 | Calculated | 98.5 | 1.8241 | 1.6041 |
| Victory | 213 | Calculated | 104.77 | 1.9836 | 1.5081 |
| Waitsfield | 214 | Calculated | 100.77 | 1.5846 | 1.5679 |
| Walden | 215 | Calculated | 101.72 | 1.3658 | 1.5533 |
| Wallingford | 216 | Calculated-Reapp-Revised | 107.96 | 1.3443 | 1.4635 |
| Waltham | 217 | Calculated | 101.16 | 1.6293 | 1.5619 |
| Wardsboro | 218 | Calculated | 109.93 | 1.3746 | 1.4373 |
| Warners Grant | 261 | Calculated | 107.36 | 0.9314 | 1.4717 |
| Warren | 219 | Calculated | 97.8 | 1.6327 | 1.6155 |
| Warren Gore | 262 | Calculated | 107.36 | 0.9314 | 1.4717 |
| Washington | 220 | Calculated | 104.22 | 1.2801 | 1.516 |
| Waterbury | 221 | Calculated | 98.67 | 1.6183 | 1.6013 |
| Waterford | 222 | Calculated | 98.21 | 1.5583 | 1.6088 |
| Waterville | 223 | Calculated | 87.14 | 1.7266 | 1.8132 |
| Weathersfield | 224 | Calculated | 96.45 | 1.5978 | 1.6382 |
| Wells | 225 | Calculated | 104.82 | 1.2707 | 1.5073 |
| Wells River | 226 | Calculated-Reappraisal | 98.77 | 1.5881 | 1.5997 |
| West Fairlee | 227 | Calculated | 93.85 | 1.9144 | 1.6835 |
| West Haven | 230 | Calculated | 99.54 | 1.3242 | 1.5873 |
| West Rutland | 234 | Calculated | 110.5 | 1.317 | 1.4299 |
| West Windsor | 235 | Calculated | 101.66 | 1.8526 | 1.5542 |
| Westfield | 228 | Calculated | 108.14 | 1.2866 | 1.4611 |
| Westford | 229 | Calculated | 98.25 | 1.4934 | 1.6081 |
| Westminster | 231 | Calculated | 101.44 | 1.6388 | 1.5576 |
| Westmore | 232 | Calculated | 105.83 | 1.4041 | 1.493 |
| Weston | 233 | Calculated | 93.31 | 1.5834 | 1.6933 |
| Weybridge | 236 | Calculated | 98.21 | 1.603 | 1.6088 |
| Wheelock | 237 | Calculated | 101.78 | 1.5537 | 1.5524 |
| Whiting | 238 | Calculated | 105.36 | 1.3108 | 1.4996 |
| Whitingham | 239 | Calculated | 101.54 | 1.9696 | 1.556 |
| Williamstown | 240 | Calculated | 89.1 | 1.5562 | 1.7733 |
| Williston | 241 | Calculated | 97.92 | 1.492 | 1.6136 |
| Wilmington | 242 | Calculated | 92.92 | 2.1233 | 1.7004 |
| Windham | 243 | Calculated | 102.13 | 1.7808 | 1.547 |
| Windsor | 244 | Calculated | 106.99 | 1.1869 | 1.4768 |
| Winhall | 245 | Calculated-Revised | 96.89 | 2.1225 | 1.6307 |
| Winooski | 246 | Calculated | 91.43 | 1.4777 | 1.7281 |
| Wolcott | 247 | Calculated | 102.16 | 1.5372 | 1.5466 |
| Woodbury | 248 | Calculated | 106.42 | 1.5751 | 1.4847 |
| Woodford | 249 | Calculated | 104.67 | 1.2808 | 1.5095 |
| Woodstock | 250 | Calculated | 97.55 | 1.7025 | 1.6197 |
| Worcester | 251 | Calculated | 99.4 | 1.7382 | 1.5895 |